The current state of venture capital in 18 charts
We recently released our inaugural PitchBook-NVCA Venture Monitor as a comprehensive resource on all matters venture capital. You can download the full 20-page report for free, but if you'd like to fast forward to the highlights, we've collated the top charts below:
US venture capital activity by quarter
3Q numbers show the venture reset is ongoing, though the decline in deal flow has been softer than some expected. At this pace, year-end VC invested could hit $74 billion—the second-highest tally of the decade.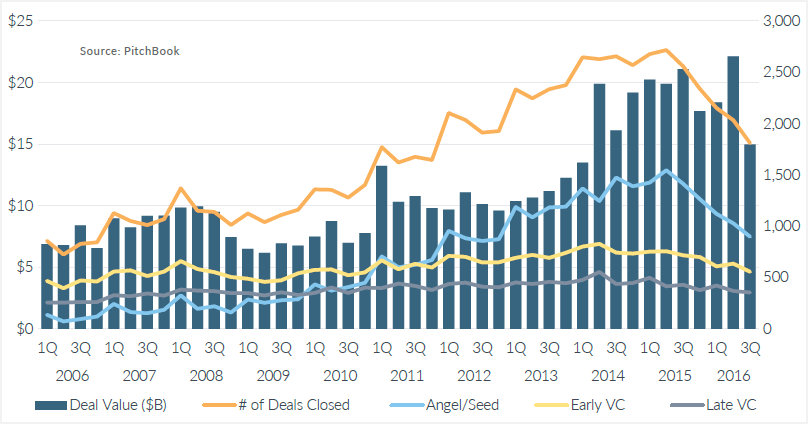 The Beginning Of Consolidation In SaaS
Three billion dollar SaaS acquisitions were announced this week with Salesforce paying $2.9B for DemandWare, an eCommerce platform provider, Vista Equity Partners paying $1.8B for Marketo, the marketing automation company, and Thoma Bravo buying Qlik, a business intelligence companies for $2.9B...[ read more ]
PE buyers still rooting for value in lower reaches of US middle market
The proliferation of private equity funds into all reaches of the US middle market has been well documented. Increased activity in the lower and core segments of the middle market is easy to see, particularly when assessing median transaction size, which declined from a high in 2014 to $133 million last year and $128.6 million through the end of 3Q...[ read more ]
Speed as a Habit
I've long believed that speed is the ultimate weapon in business. All else being equal, the fastest company in any market will win. Speed is a defining characteristic — if not the defining characteristic — of the leader in virtually every industry you look at...[read more]